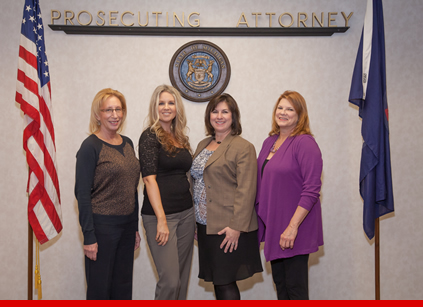 Eric Smith's Domestic Violence Unit concentrates on difficult and sensitive cases involving violence in the home. Domestic violence is defined as physical violence between spouses, former spouses, residents or former residents of the household, or individuals who have a child in common. The DV Unit handles cases ranging from 93 day misdemeanors to murder cases, and may also include child abuse cases.
Assistant Prosecutors in the unit are specially trained in the domestic violence cycle, and follow felony DV cases through the prosecution process from initiation to conclusion. This system of vertical prosecution enables the prosecutor to establish a rapport with the victim throughout the prosecution of the case, and ensures a consistent, fair, and aggressive approach. Victim advocacy services are also available to victims of domestic violence as they are to all victims of crimes in Macomb County.
Domestic violence statutes have changed dramatically in recent years. Unlike most other misdemeanors in which a police officer must observe the actual criminal act before he can arrest without a warrant, the law provides that an officer may make an arrest as long as he has probable cause to believe that the assault occurred. In 1994 new penalties were enacted for this class of crimes. The first conviction for a domestic violence assault is punishable by up to 93 days in jail, plus fines and costs. A second conviction, which is also a misdemeanor, is punishable by up to one year in jail. A third conviction becomes a felony, with up to 2 years incarceration.
Victims of domestic violence may also contact Turning Point for counseling and shelter at (586) 463-6990.
What Does "Domestic Violence" Mean?
Domestic violence is a learned pattern of assaultive, physical, verbal, sexual and/or emotional behaviors in which one person in a relationship uses force and intimidation to dominate or control the other person.
The term "relationship" includes a current or former spouse, a family member, the other parent of your child, a current or former roommate, a current or former individual in a dating relationship, a domestic partner.
The domestic partner may be married or not married; heterosexual, gay or lesbian; living together, separated or dating. Domestic violence occurs in all ages, races, genders and social classes. The violence takes many forms and can happen all the time or once in a while. Examples of domestic violence are:
physical assault or abuse — hitting, pushing, shoving, slapping, choking, punching, kicking, grabbing, beating, throwing her down, tripping, twisting arms, biting, using a weapon
threatened physical harm
sexual assault or abuse — unwanted, forced sexual activity, making her do sexual things against her will, physically attacking the sexual parts of her body, etc.
stalking
intimidation
emotional abuse — mind games, name-calling, put-downs, making the victim feel bad about herself
jealousy — a sign of possessiveness and lack of trust
controlling behavior and forced isolation (from family or friends) — controlling what the victim does, who the victim sees or talks to, where the victim goes, relocating to a remote area, etc.
economic abuse — preventing the victim from getting or holding a job, and controlling the purse-strings by withholding money, taking the victims earned money, giving the victim an allowance, and or making them ask for money, etc.
An important step to help yourself or someone you know prevent or stop violence is recognizing the warning signs listed on the "Violence Wheel".