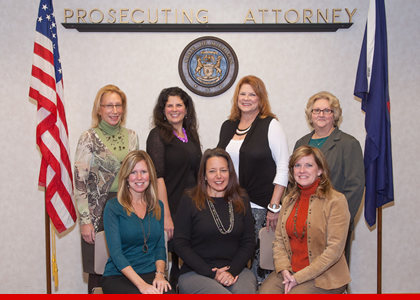 AN OVERVIEW
In 1985, the State of Michigan enacted the Crime Victim's Rights Act. The Act provides the duty that Prosecutors must notify crime victim's of their specific rights under the law. Under the law, they are to provide a description of the criminal justice system and Crime Victims Compensation information. They tell a victim what to do if they are threatened and provide a contact person in the Prosecutor's Office.
In complying with the Crime Victim's Rights Act, Macomb County has established the Crime Victims Rights Unit. The Unit is composed of a Coordinator, four Victim Advocates and two secretaries.
Victim Advocates provide advocacy throughout the criminal justice process on behalf of the crime victim. They provide services to victims of crime with special needs, such as senior citizens, and victims of domestic violence, and sexual assault. These services include an explanation of the criminal justice system and various court proceedings, providing emotional support and crisis intervention, accompanying victims to court, providing case status information, consulting with assistant prosecuting attorneys, and maintaining case files.