How You Can Protect Yourself From Identity Theft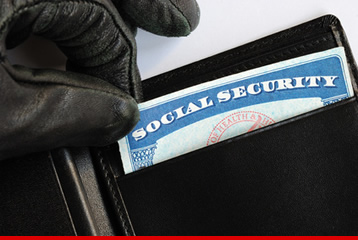 Never give out your Social Security number, driver's license, any bank or credit account numbers or other identifying information unless you know the person or organization or you initiated the contact.
Treat checkbooks, ATM cards, credit cards, and credit card offers as if they're cash - protect them.
Before discarding you should shred personal information such as receipts, insurance forms, bank and credit card statements and other offers.
Notify financial institutions and credit card companies before relocating to a new home or care facility.
Have your mail held when going on vacation or into the hospital.
Cancel unneeded credit cards.
Say no to credit card offers by calling 1-888-5-OPT-OUT (567-8688).
Keep a list of customer service telephone numbers of current accounts in case you need to report a credit card stolen or any other kind of identity theft.
Review financial and credit card statements each month for unauthorized activity.
Obtain and review a copy of your credit report each year. The three major credit reporting agencies are:
Experian - experian.com
Equifax - equifax.com
TransUnion - transunion.com
Obtain and read the Federal Trade Commission booklet on identity theft

Know the law. Identity theft is a felony in Michigan. For more information about this law, please visit mileg.org.
Recommendations for resident-care facility employees
Don't open resident mail; in fact, they have the right to receive their mail unopened.
Don't put resident non-medical personal information - including Social Security number, driver's license, date of birth, address and employment history - on their charts. A chart is easily accessed by an identity thief. Keep any personal information about a resident in a secure place.
Discourage residents from pre-signing checks or leaving checkbooks, credit cards, mail, etc., unsecured and unattended.
Be alert to visitors and unidentified individuals in resident areas.
The key to protecting yourself and the people you love
from identity theft is to prevent it from happening in the fist place
What to Do if You Are a Victim of Identity Theft
If you're a victim of identity theft, don't panic. Do the following:
Immediately contact the three credit reporting agencies listed above. Ask for a "fraud alert," which will help prevent new credit accounts from being opened without your permission.
File a report with the local police.
Contact the Postal Inspection Office at postalinspectors.uspis.gov . Most identity theft crimes involve the use of mail, the U.S. Postal Service is also a lead agency in investigating these crimes.
Contact the Social Security Administration Fraud Hotline (1-800-269-0271). Alert them that your number has been stolen.
Contact your banks and credit card companies. Review your statements.
Notify the Federal Trade Commission at 1-877-438-4338.